Il grido della natura 1.12.2018 | 17.02.2019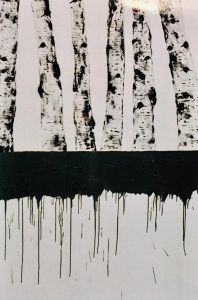 "IL GRIDO DELLA NATURA
THE CRY OF NATURE"
Solo exhibition Vittorio Buratti
opening 1.12.2018 at 5pm
Vittorio Buratti's artworks talk about, or rather scream, as if trying to come out of thick canvases and narrow spaces.
They vibrate in space with a constant rhythm, releasing a lamentation similar to that of a prisoner.
The wait is dull and lacerating marked by the light and colours of
the seasons masterfully ignited by the artist.
Human presence is only perceived, is distant.
Its vanity has made it a cannibal and while fleeing from its ego,
without looking back we can follow its black footsteps left
on the earth.
Vittorio Buratti chooses to give voice to nature which impatiently awaits its own liberation however leaving man to decide whether to turn around, retrace his steps and be the keeper of the garden left by the Father.
Vittorio Buratti was born in Bologna.
He graduated from the Taddia Institute of Cento and since 1963 has attended the studio of painter Remo Fabbri (member of Futurism alongside Marinetti) and then of sculptor Dino Bonzagni. His works are present in museums and private collections.
On display until 19 February| visits every Tuesdays from 3pm to 7pm on other days by appointment only. [Closed from 19 December to 5 January] [Chiusa dal 19 dicembre al 5 gennaio]