Francesca Tagè, Neapolitan artist, is the winner of the first ArtRise prize.
The earth on a thermal rescue blanket is the winner of the 1st edition of ArtRise 2019, at Open Art House in Ivrea.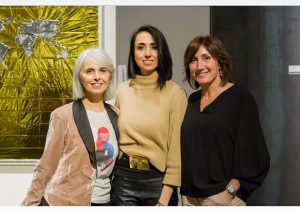 "A new destination of the human soul": the earth rests on a real thermal rescue blanket. "Heartproof Earth". Heartproof earth is an artwork by Francesca Tagè who won the ArtRise 2019 Art Competition at the Open Art House Gallery in Ivrea, in its first edition entitled "Heart Change / Earth Change.
An aluminum 3D planisphere silhouette positioned on a (divine) golden coloured emergency sheet. "The earth – says the artist – rests on a real isothermal blanket but above all on the condition and constant plight of the dignity of human beings. Those in the world willing to favor a sense of humanity recognize its symbolic value of a "Heartproof" blanket which is heart-proof".
A highly specialized jury consisting of  Mara Risitano and Matteo Mo founders of the S139 ensemble, Valeria Fondi, visual artist, Marianna Foglia collector and cultural operator, Giuseppe Compare gallerist and owner of Shazar Gallery, and the founders of Officinarkitettura srl, have chosen 12 finalists (from all over Italy) to take part in the exhibition opening on 30 November and on show until the 31 January 2020, showcasing their artworks based on the theme of radical change. The latter meaning change starts with us, so we can transform everything that surrounds us. The theme is taken from a biblical principle in Ezekiel 36 v26.
The winner will produce a personal project to be exhibited at the OAH gallery in Ivrea, supervised by Monica Cremaschi and her team. They will also have the opportunity to collaborate artistically with the Monograph wallpaper line at Offinarkitettura srl.
The Prize was supported by the Patronage of the City of Ivrea and of the Regional Council of Piemonte.
From 31 August 2020 – The first Insta Exhibition of Open Art House
"Heartproof Earth" – by Francesca Tagè
We are stunned and proud to have chosen this exhibition to start our first online project.
Ten artworks, ten shoots, still life, with thermal blanket fragments, for a rescue path for Earth, where the human being is the greatest treasure to guard and to take care of.
For info about the author's artworks, write to us using the form at the end of the page.
To have more info about the artworks, you may write to us here