Opening group show ArtRise prize 2023
Saturday 2 December 2023 4.30 pm
Opening of the collective of the thirteen finalists of the third edition of ArtRise, a biennial contemporary art award founded by the association Open Art House, gallery house in Ivrea, in collaboration with the SVA collective (Sabaoth Visual Art).
On display until January 31, 2024.
The Award was born in 2019 as an art scouting tool, with the aim of encouraging and cultivating new talents and projects in the field of visual art.
Feeding a new system of contemporary visual art that breaks with some "market" patterns, more in line with real life and at the same time be a stimulus for a new collecting. A bridge between this generation and the future one, taking advantage of the past to learn to preserve and pursue -with tenacity- the universal values that are the foundation of a society that prides itself on being at the forefront.
At each edition, artists of all ages, and through any technique, are called to respond with their work to a theme based on a universal biblical principle. The one for this 2023 edition is WHAT IS TIME WORTH? ["Teach us therefore to number our days well, that we may acquire a wise heart." Bible Code Sl 90.12]. In accordance with this principle we considered it necessary and urgent to learn to count time, recognize it and value it.
The participants were asked to think and develop works around the value of time, sometimes so ephemeral but also very present. What value we give to time and how we are using it are questions around which the individual projects have revolved. A challenge in showing the invisible, as imperceptible as it is real but above all a revealing agent of a constant search for wisdom. We will see how each artist interpreted this aspect during the opening day.
These are the thirteen finalists at the ArtRise 2023 collective: Alessandro Lando with "Cut Flowers" Alexandra Marinova with "Presence_Absence" Antonio Delluzio with "Space and Time" Daniele Cornacchia with "Tempo" Giulia Osella with "22:22" Karen Fabbro with "Life Paths" La Chigi with "Let'us play" Luce Resinanti with "To eternal oblivion" Michele Amato with "If I had more time" Nicola Bertellotti with "Cronoesthesia" Pieragnela Franzoni with "Taking your time" Raffaella Romano with "Liquid Sun" Sandra Baruzzi with "Ephemeral architectures of exile"
Programming Saturday 2 December
The gallery will open at 4.30pm and each artist will present their work having the opportunity to answer some questions which will allow them to also exhibit their artistic research.
At 6.30 pm as the central event there will be a poetic performance entitled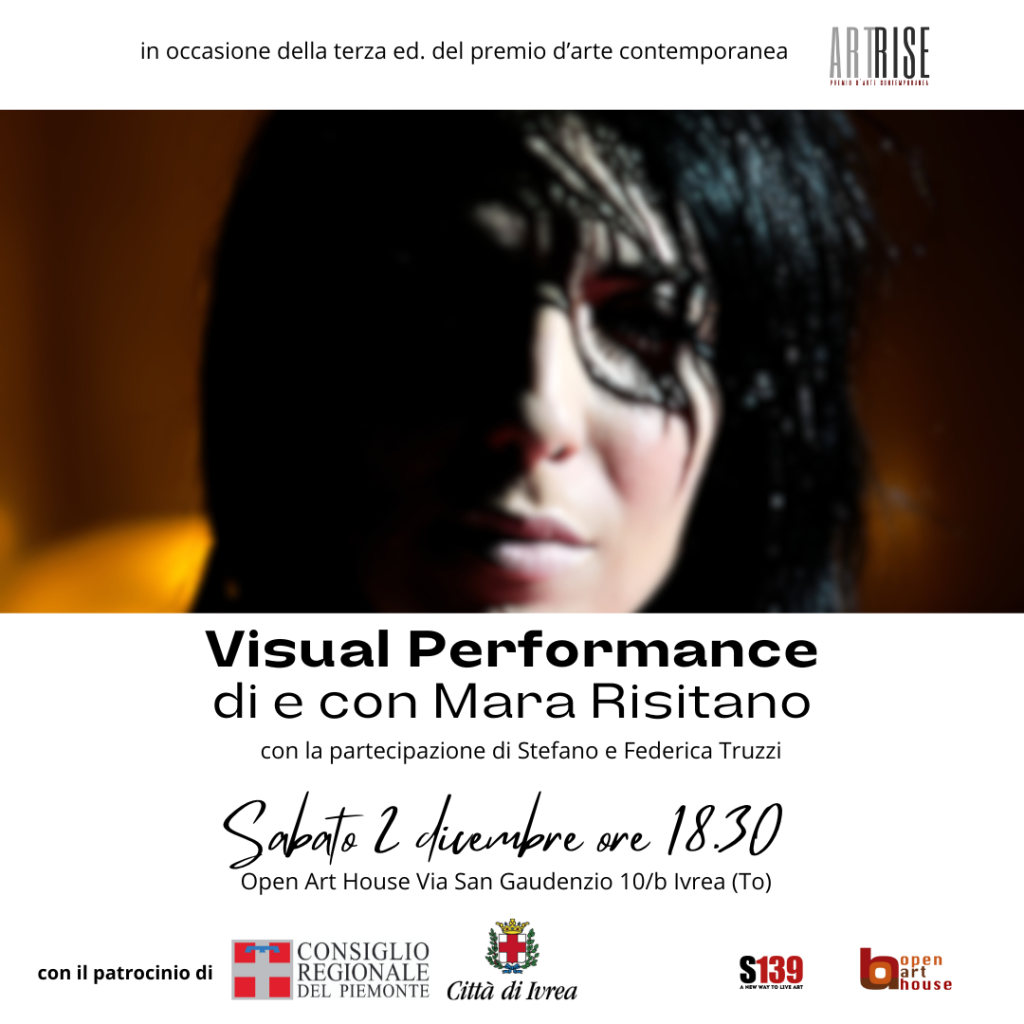 "Visual Performance" by and with Mara Risitano, writer, performer and founder – together with her husband Matteo Mo – of the S139 movement. This is a performance freely inspired by the works and the theme of this third edition.
At the end, the winner of ArtRise 2023 will be rewarded and we will celebrate by toasting with a small refreshment as an aperitif.
Up for grabs for the winner are a series of possibilities that will facilitate his artistic growth.
It will be able to develop and create a solo show at the OAH gallery house in Ivrea, curated by Monica Cremaschi, and also propose to Shazar Gallery in Naples, partner of the award. Thanks to the collaboration with Offcininarkitettura srl, it is also possible to present an artistic project for reproduction on wallpaper or Kerlite, for interior covering, through a royalty contract.
The jury of the 2023 award is composed by Mara Risitano and Matteo Mo of S139art, Valeria Fondi founder of the SVA Manifesto, Marianna Foglia collector, Luciano Caggianello artist and designer, Giuseppe Compare of the Shazar Gallery of Naples, Giorgio Buratti and Andrea Bernagozzi of Officinarkitettura srl of Cento, Leonardo Porcelli of Stilemi, Monica Cremaschi of OAH and the visual art group SVA.
Opening: Saturday 2 December 2023 from 4.30 pm
On display: from 2.12.23 to 31.01.24
Where: OAH Open Art House, Via San Gaudenzio 10/b 10015 Ivrea (Turin)
Visits: Thursday, 2.30/6.30 pm Friday 3 pm/7.00pm & Saturday 10.30am / 12.30pm. Other days by appointment.
Closing: on Saturday 23 and 30.12 and from 1 to 8 January 2024.